This poster is part of the Open Repositories 2021 Poster Session which takes place in the week of June 7-10. We encourage you to ask questions and engage in discussion on this poster by using the comments feature. Authors will respond to comments during this week.
Authors:
Ellen Ramsey, Brian Hole and Ilkay Holt
Poster description:
Join a Year Two project update for the Advancing Hyku collaborative project, which aims to support the growth of green open access through institutional repositories. The deliverables of the project are to introduce significant structural improvements and new features to the Samvera Community's Hyku platform. The project partners are University of Virginia Library, Ubiquity Press and the British Library, with funding from Arcadia, a charitable fund of philanthropists Lisbet Rausing and Peter Baldwin. The project began October 2019 and is scheduled to conclude with a rollout of the Advanced Hyku platform community-wide after February 2022. https://advancinghyku.io/
(Click on the image to expand)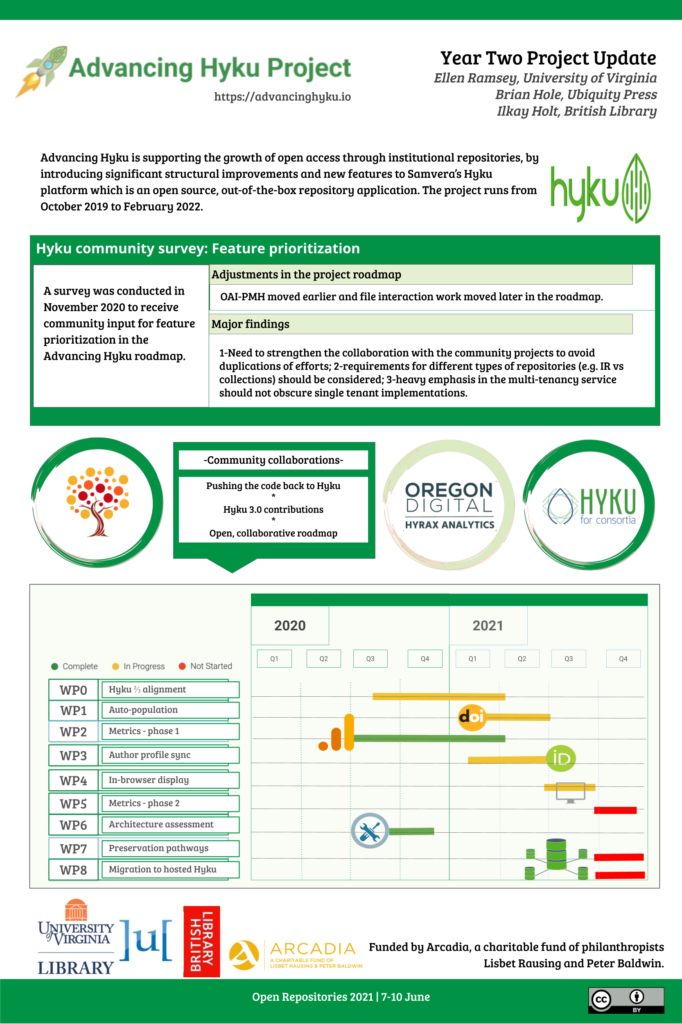 About the authors:
Ellen Catz Ramsey (Presenting author) is Acting Director for Scholarly Communications at the University of Virginia Library in Charlottesville, VA, and Principle Investigator for the Advancing Hyku Project funded by Arcadia. She received her MLIS from Florida State University and her M.Ed. from the University of Virginia, and works to make scholarly content generated by and for the academic community openly accessible.
Brian Hole is the CEO of Ubiquity Press. He founded Ubiquity Press out of frustration with the options provided by legacy publishers and platforms for open access and open science. The Ubiquity platform is a SaaS offering for university presses and libraries that offers repositories as well as full support for open access publishing. A customer charter and community governance guarantee that all products will remain open source and open access. Prior to Ubiquity Brian held positions at Business Objects, Elsevier and the British Library. He holds a PhD in archaeology from University College London.
Ilkay Holt is Repositories and Community Engagement Lead at the British Library and is one of the project managers for Advancing Hyku. She has been working in the field of open repositories in a number of different roles which include the Confederation of Open Access Repositories (COAR) and the OpenAIRE project. She has also coordinated training programs at FAO of the UN in farm data management, providing capacity development activities in the context of access to information, open principles, open licensing, and promoting the use of open infrastructure.