This poster is part of the Open Repositories 2021 Poster Session which takes place in the week of June 7-10. We encourage you to ask questions and engage in discussion on this poster by using the comments feature. Authors will respond to comments during this week.
Authors:
Maureen Walsh
Poster description:
The Ohio State University Libraries promotes innovative research and creative expression and curates and preserves information essential for scholarship and learning. Making the research and scholarship of Ohio
State's faculty, staff, and students openly available allows us to live our land grant mission – sharing knowledge and culture with the people of Ohio, the nation, and the world. This poster will discuss current developments with The Ohio State University Libraries' "Transforming the Scholarly Publishing Economy" strategic initiative. It will highlight Ohio State's Open Access agreements, the ongoing development of partnerships across campus and with our consortia and peers, early outcomes of our faculty, scholarly society, and publisher engagements, and thoughts towards future opportunities and challenges.
(Click on the image to zoom in)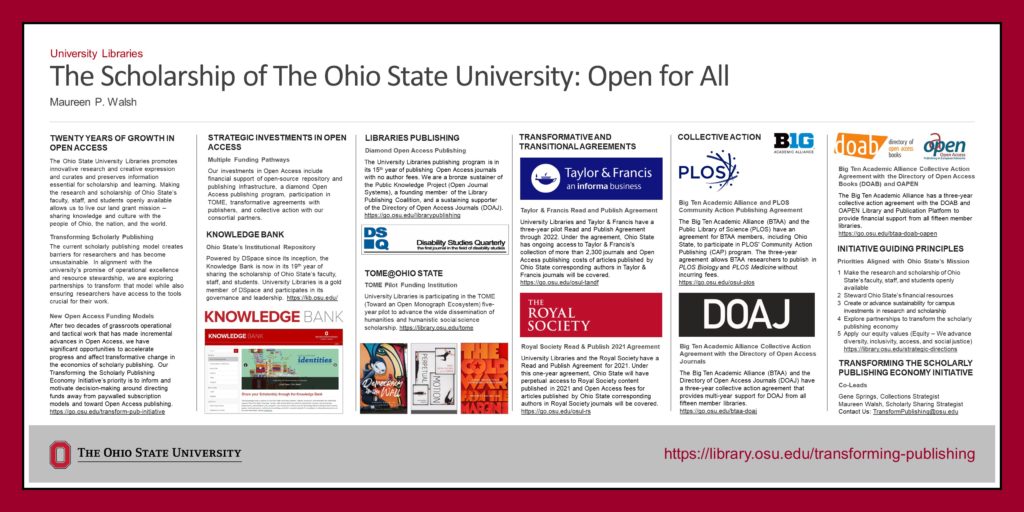 About the authors:
Maureen Walsh is an Associate Professor and the Scholarly Sharing Strategist for The Ohio State University Libraries. She heads the Scholarly Sharing Program Area in University Libraries which includes Copyright Services and Publishing and Repository Services. Maureen is the current Vice-Chair of the DSpace Leadership and Steering Groups and the Chair of the DSpace Community Advisory Team. She also represents the Big Ten Academic Alliance on the arXiv Member Advisory Board.