This poster is part of the Open Repositories 2021 Poster Session which takes place in the week of June 7-10. We encourage you to ask questions and engage in discussion on this poster by using the comments feature. Authors will respond to comments during this week.
Authors:
Kate Niemantinga and Pierre Cilliers
Poster description:
The archiving and dissemination of geophysical research data collected over Southern Africa, Antarctic research base (SANAE IV) and at the South African high latitude observatories on Marion Island and Gough Island, has until recently been fragmented and inaccessible to international researchers. At the Space Science Directorate of the South African National Space Agency (SANSA) in Hermanus we have implemented a scientific data portal called the South African National Geophysical Data and Instrumentation Management System (SANDIMS) which for the first time makes the geophysical data collected and used by SANSA available through a single data portal. Our aim is that the system will meet national and international obligations and expectations, as well as raise the standard of South African research. The system's unique database will contain high-quality data from areas in space that, potentially, could supply information for unanswered scientific questions and enhance scientific development.  The paper will share insights from various topics including Data Policies, Licensing, Data Discovery and showcase tools for researchers and practitioners.
(Please click on the image to zoom in)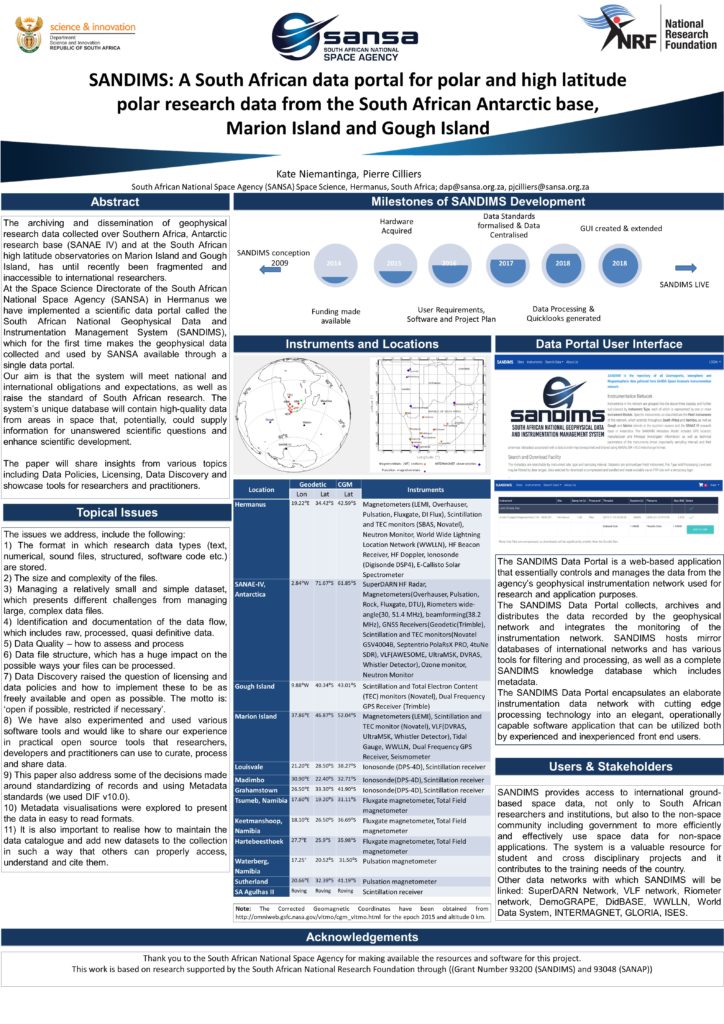 About the authors:
Kate Niemantinga (Presenting author), the Data Acquisition Practitioner at the Space Science Directorate of the South African National Space Agency since 2015 is responsible for the data produced by the South African remote sensing instrumentation network. A senior SQL developer and data analyst with two decades of experience.
Dr. Pierre Cilliers is a retired Professor of Electronic Engineering, employed on a part-time contract at SANSA since 1 April 2018. Since 2004 he was employed as a research physicist at the Space Science Directorate of the South African National Space Agency, previously known as the Hermanus Magnetic Observatory (HMO).  During 2016 he was the Project Coordinator for the development of the SANDIMS data portal. At the time of his retirement from SANSA at the end of 2017, he was the group leader for research on Geomagnetically Induced Currents (GICs) at SANSA Space Science, and the PI for a collaborative research project with Italy on monitoring space weather impacts on the ionosphere in Antarctica by means of ionospheric scintillation receivers. He has supervised several postgraduate students at SANSA and has produced more than 30 peer-reviewed publications since joining the HMO in 2002.